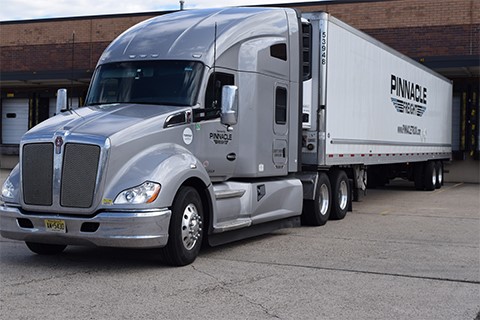 Company Description
Pinnacle Freight Systems, Inc is an asset-based freight transportation provider offering full truckload and less-than-truckload service throughout the United States and Canada. Through a network of company trucks, agencies and contracted carriers we provide solutions for shippers needing truckload capacity, temperature control, hazardous materials transport and expedited service.
Our flagship service is the LTL service we offer from our warehouse and distribution center in Florence NJ. We call it "Load-to deliver" because each shipment is loaded from our facility on the same truck that will deliver it. There are no satellite terminals or break bulk facilities that delay delivery or risk damage. Since our entire fleet of trailers are refrigerated, we can safely provide temperature control on all LTL shipments and even transport hazardous materials.
Our modern 110,000 square foot facility includes two separate coolers equipped for 40°F and 60°F storage. Our location makes us an ideal solution for delivery into tristate, Mid-Atlantic, and New England states. At Pinnacle there are no rules. We can structure a relationship that works best for you and your company. We offer flexible hours of operation and accept trucks on your schedule. Our staff will look for ways to exceed your expectations.
Categories
For Hire

Common Carrier
Common Carrier- LTL
Common Carrier- Specialized
Common Carrier- Tank
Common Carrier- Tank-HazMat
Common Carrier- TL
Common Carrier- TL HazMat
To Top